I think you
can
probably see from the pictures what kind of weather
we're having
here in
Northeast
Arkansas today.
Thankfully, the tornadoes and
severe weather pred
icted for
our
area
didn't materialize last
night, but our neighbors to the
South and East weren't so lucky. I just visited Jenn's brother, Ryan Vaughan's
website, and saw that Montgomery, Alabama was hi
t by a suspected tornado and they have lots of damage. No word yet on deaths or injuries. Ryan is our weathe
r guy on our local ABC affiliate. I'm sure the people of Montgomery would appreciate our prayers if you feel led to pray for them. BooMama also is very close to the severe weather. I need to
email her soon.....

In light of the severe weather others are experiencing, our cold and chilly weather is nothing to complain about. Actually, I love this kind of day.

I'm still fighting with this cold/sinus infection. Some days I feel like I'm winning, other days the bug is winning. Par for the course during this time of year, for me anyway. I still sound like John Wayne at times, but overall I feel okay for the most
part.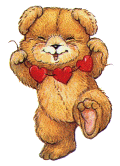 Jessica had an ultrasound this morning, so I have a little more news to share about
the baby, although not as much as I'd like. The technician told her she was only about 13 weeks, but she also said the baby was the most active and most developed she'd ever se
en for that age. Something just ain't Kosher there....I still think she's further along than that. They gave her a due date of late May. We'll see. As she has more ultrasounds and measurements along the way, I'm sure that will change several times. Mama and baby seem to be perfectly healthy at this point, which is a HUGE blessing, praise the LORD! For all of you have who have been so kind to ask and comment, Jessica seems to be completely over her recent virus. That's another praise!

I shamelessly stole that dancing teddy bear from my dear friend Greeneyes. I think he's adorable. Thanks, Greeneyes. ;-)

Tonight is Wednesday night prayer meeting at church, so I have to get this posted and get my supper cooked. I fixed a big pot of pinto beans and a skillet of cornbread for supper last night, and tonight I'm using the beans leftover from last night's supper to make Red Beans & Rice. Okay,

technically

it will be brown beans and rice, but I add some canned kidney beans to it, so it's only fudging a little to call it Red Beans & Rice. It's my own conglomeration, and it's good stuff if I do say so myself. It's also one of Lamar's favorite meals, and only takes about 30 minutes to make if you already have your beans cooked. I try to make extra pinto beans every time I cook them so I'll have them for my Red Beans & Rice. If I can, I'll try to update this and include a picture of my supper when I get it done.



UPDATE:

There's the pic. :-)

Gotta go cook so I'll get done in time to go to church. Hope all is well with you and yours, and you're having a great week.

Love to all,